Gutter Installers in Baltimore MD
Family Owned & Operated Since 1979
Top Gutter Installers serving Baltimore, Anne Arundel, Carroll, Frederick, Harford, Howard & Montgomery County
---
Are you noticing a buildup of leaves and debris around your gutters? Does water flow down from your roof at a much slower rate than before?
The gutter installers and repairers at Phil DiBello Family Roofing can help ensure that your gutters and fascia are functioning flawlessly. We understand the critical role gutters play in protecting your home, as they ensure water does not build up on the roof.
Do not risk a roof leak and water getting into your home's foundation. You never know when the next seasonal storm may hit – have our professionals assess your gutters as soon as possible.

With more gutter options to choose from and quality standards that lead the industry, you can rest easily knowing the professionals at Phil DiBello Family Roofing have you covered.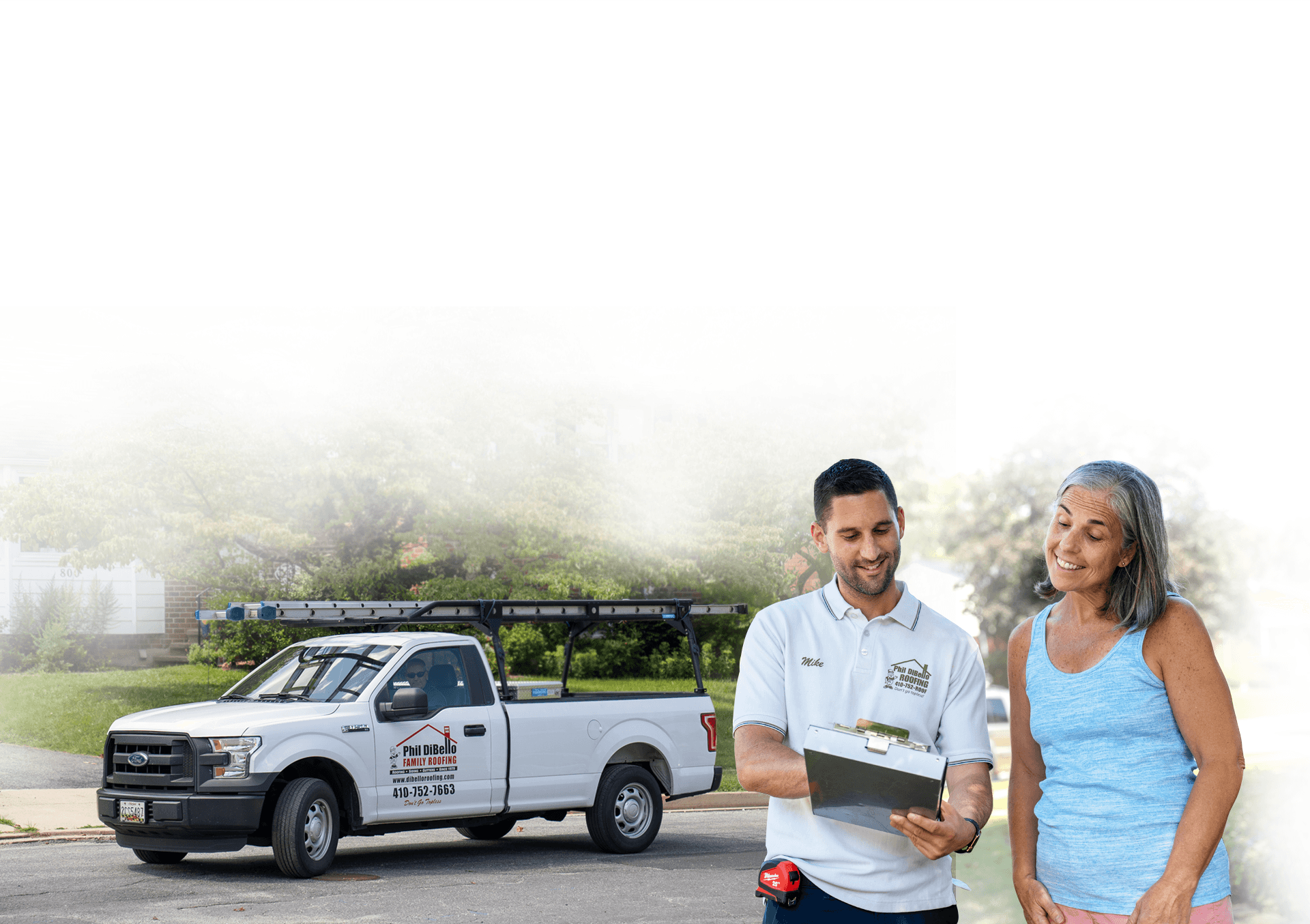 Gutter Installations & Repairs in Baltimore
The crew at Phil DiBello Family Roofing has extensive experience in the installation and repairs of residential gutter systems. We have over 40 years of history serving the Baltimore community, which means we have worked on nearly every style of gutter system.
Our seamless gutter installation is the only way to ensure that rain swiftly moves away from your roof and onto the ground. Even a 20-minute downpour can create significant puddles on the roof if your gutters are not functioning correctly.
We prefer a seamless gutter installations because it is a single unit that does not feature any joints where leaves and debris may get stuck. Our long-time clients consistently tell us how they are amazed that a gutter system we installed a decade ago is working flawlessly to this day.
A gutter installation from Phil DiBello Family Roofing starts with a free consultation. We send one of our specialists to your home, as they can assess your roof and structure to determine the best model of seamless gutter system.
Our gutter installers custom-fit each gutter system to direct the roof runoff away from your walls and foundation. That ensures there is no flooding in your basement or crawl space. Each installation takes into account the uniqueness of a property, as we wish to eliminate any possibility of rainwater getting into places where it should not be.
Searching the Web for "Gutter Repair Services Near Me?"
Even the best constructed and installed gutter systems may develop problems down the road. Homeowners in Baltimore and surrounding cities can trust Phil DiBello Family Roofing to repair any damaged or improperly functioning gutter systems thoroughly.
Our team arrives at your home, assesses the roof and gutter area, and explains the problem you are experiencing. We are upfront about any issues we find, while our crew recommends solutions that are long-lasting and cost-effective.
Most repairs are done on the spot, while others may take a few days as we may have to order additional parts. Phil DiBello Family Roofing is the gutter repair company you can trust to fix any gutter system, even those installed by other professionals.
Gutter Replacements
When your gutters are damaged to the extent that repairs are no longer cost-effective, we recommend a gutter replacement. It presents a more significant upfront expense but also ensures that you no longer have to worry about gutter problems for the next decade or two.
We can replace an existing system with a similar model, or recommend a more advanced and efficient gutter system.
Contact Phil DiBello Family Roofing, an expert gutter repair company, for installations, repairs, and replacements in Baltimore, Harford, Carroll, Anne Arundel, and Howard Counties.