Roof Repair Company in Baltimore MD
Expertise You Can Count On Since 1979
Top Roof Repair Pros serving Baltimore, Anne Arundel, Carroll, Frederick, Harford, Howard & Montgomery County
---

If you are looking for the best roof repair company following quality standards that lead the industry, you can rest easily knowing the professionals at Phil DiBello Family Roofing have you covered.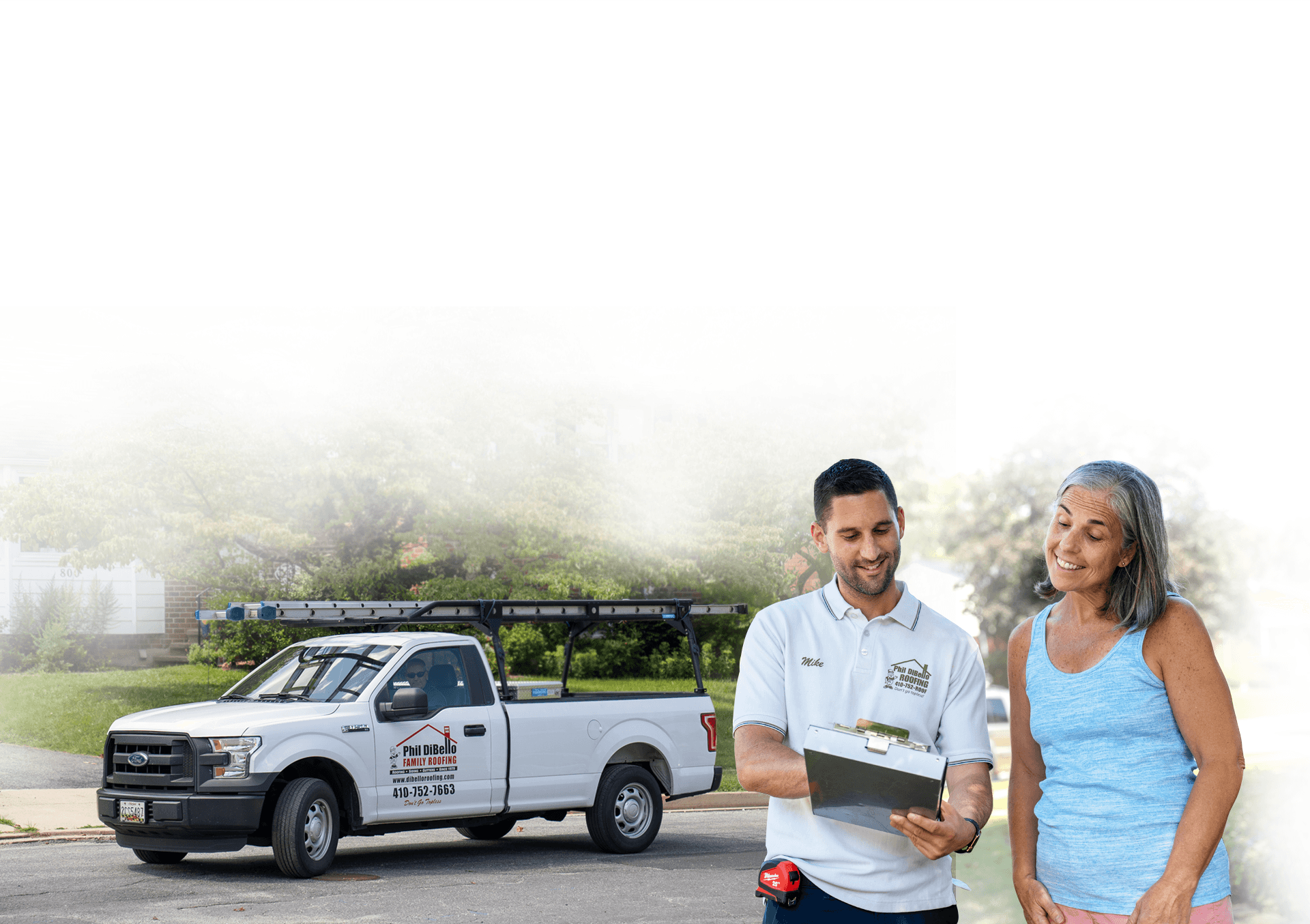 Please Note: Before getting in touch with a roof repair company, understand that not all roofs should be repaired. When a roof is very aged and damaged, opting for a repair instead of a full replacement can do more harm than good. At Phil DiBello Family Roofing, we are committed to only providing roof repairs in situations where it is truly appropriate. Often, this means repairing newer roofs that have minor issues or leaks that can be resolved completely. If your roof is deteriorated, water damaged, or otherwise having serious issues, a roof repair will not be appropriate.

Phil DiBello Family Roofing is a locally owned and operated business that assists homeowners with roof repair needs. We have decades of experience, licensed professionals on staff, and the necessary work ethic to ensure your roof is back to full functionality in no time.
A damaged roof can cause significant problems for homeowners in Baltimore and the surrounding cities. All it takes is one rainstorm when your roof is leaking for water to get into your home's foundation.
Water penetration leads to mold buildup and other problems, which can cost a lot of money to resolve. It is why contacting the pros at Phil DiBello Family Roofing is so important. If you notice any problems in and around your roof, you can count on us to correctly diagnose and resolve the issue.
While we do our best to offer roof repair service, not all roof repairs are the same. It will be determined by our professionals at Phil Dibello Family Roofing whether or not your home
Roof Repair Services in Baltimore
Phil DiBello Family Roofing is a 40-year-old family business that has repaired almost every type of roof for homeowners in Baltimore and surrounding cities. We have the tools and knowledge to diagnose the issue accurately and perform repairs efficiently.
When to Call Roof Repair Professionals?
Hiring a professional to repair your roof is the best way to ensure any minor issues are nipped in the bud. Among the most common signs that point to roof damage includes:
Standing water on the roof

Water stains indoors, especially in and around the ceiling

Warped or buckled roof membrane

Damaged or rusted flashing

Cracks
Even if it is a false alarm, our professionals should have a chance to assess your roof. The last thing you want is to ignore a potential roof problem, only for it to result in extensive damage to the interior of your home.
What Do Roof Repairs Cost?
The cost of roofing repair depends on the extent of the damage. Minor maintenance and repairs should not cost more than a few hundred dollars, but the cost can rise if there are more significant issues.
Phil DiBello Family Roofing offers free consultations, which means you can have our expert assess your roof and offer a cost estimate before you choose to utilize our services.
Types of Roof Repair Services
Phil DiBello Family Roofing is the roof specialist you can trust. Whether you notice a small crack or your roof is falling apart, we offer prompt and thorough assistance.
Our team does not stop working until they come up with a solution to your issue. In the event we need more time to order parts and fully repair your roof, we set up temporary measures to ensure no water gets inside your home in the meantime.
Our roof repair services extend to:
Leaky Roofs

Leaky Pipe Collars

Leaky Flashings

Leaky Chimneys

Loose & Damage Shingles

Loose & Damage Fascia

Rotting Wood & Plywood
Promptly resolving roofing problems is the best way to ensure the long term health of your roof and to protect your home's foundation. Homeowners can save thousands of dollars on costly and time-consuming repair work by calling a roofing professional the moment they notice a problem.
Anyone who is searching on the web for "roof repair services near me" should look no further than Phil DiBello Family Roofing. We are based in Baltimore, but serve customers in Baltimore County, Carroll, Harford, Anne Arundel, and Howard County regions.